Ayurveda
What is Ayurveda? Ayurvedical nutrition and health counselling
Ayurvedical cookery courses Dates & Prices: Other offers Publication
The old-Indian Sanscrit term "Ayurveda" means "the knowledge of the life".
Ayurveda is considered the mother of all healing arts and is a many thousand year old comprehensive health and medicine system, which function up outstandingly until today.

The basis of ayurvedic philosphy is the science of the five elements ether (area), air, fire, water and earth, which are assigned to tree vital basic forces (Doshas) Vata, Pitta, Kapha.

Ayurveda regards human being as a unit of body, spirit and soul in interaction with the environnement and the cosmos. From nature and from birth human being has acompletly individual composition of the elements (respectively Doshas), which shape its constitution, its plants, temperament and character.

Our health and well-being depend considerably on our daily habits, our nourishment
and the fulfilment of physical and mental needs. The knowledge of life gives us an aboundance of marvelous methods, which we can use to a large extent ourselves in order to find out our own balance and so to lead a healthy and happy life.


According to the understanding of Ayurveda, nutrition alone constitutes 80% of our health. In the difference to our western nourishment teachings concern themselves with food and its individual ingredients, Ayurveda teachings place human being into the center and orient themselves to the individual digestibleness and effect of the food on the particular.

In the holistic nutrition and health counselling various factors are considered, like constitution, digesting strength, lifestyle, occupation, age, place of residence and climate, as well as the mental and psychological condition. Because human being is, what he does digest, mean what its body makes from the food.

Ayurvedical nutrition is food for body, spirit and soul and receives the entire organism
in the equilibrium.

My holistic nutrition and health counselling is based on a detailed anamnesis to the determination of your individual constitution. Whereupon you keep its individual, detailed recommendations inclusive briefcase constructing.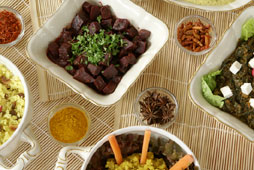 Cooking in the ayuverdic way means affectionate preparation of very different, colored, smelling, delicious and digestible meals with a bit of sensuality.

My cookery courses are workshops of a special kind !
Ayuverda – the knowledge of life will be taught in a tasty, clear and lively way, concerning practical, as well as theoretical aspects. The workshops take place in a private and individual context of four persons in a beautiful ambiance.

In the basis seminar we will learn basic techniques of the production of ghee and spicy brews. In all workshops we will prepare together entire tri-dosha meal with 7-8 components and enjoy it in a nice ambiance with candle-light and smooth Indian music.

| | | |
| --- | --- | --- |
| cooking class basic | b.a. | 75 € |
| cooking class for vata, pitta or kapha | b.a. | 75 € |
| cooking class with herbals and spices | b.a. | 75 € |
| cooking class of season | b.a. | 75 € |
| cooking class for soul | b.a. | 75 € |
| variations for breakfast | b.a. | 60 € |
| aphrodisiac cooking | b.a. | 80 € |
| | | |

All rates inclusive cost of materials, lecture notes and recipes.

Also a beautiful, delicious and memorable gift idea!



•

Gladly I come to you at home for giving cookery courses
or I'm cooking according to your desires.

•

Would you like support the success of your seminar by a balanced kitchen?
Gladly I'm cooking for groups at home and abroad.

•

I'm teaching the knowledge of the life very gladly in lectures and seminars
at home and abroad. Particularly suitably for Yoga scools.
For closer information send me please an email lotusperle@gmx.net


Read a journal article on the subject of Ayurveda, published in Prism magazine, edition April / May 2007.
Home | About me | Ayurveda | Yoga | Sound | Lotus flower | Contact | Links

Imprint