The word "yoga" derives from the sanscrit root "yui" and means to unite, to connect. The aim is a conscious unity of body, mind and soul. The connecting element is the breath.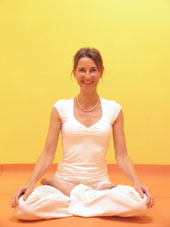 Yoga can be practised by people of all ages, independent of their level of fitness and agility as well as their level of personal health. Everybody defines its individual level of effort and treats himself in a caring manner while practising. Yoga helps us to find our true self and our inner peace of mind. Yoga will make our body and mind agile, supple and stable. As a result of this inner balance you will be happier and gain vitality as well as sensuality.

The basis for my yoga classes are the therapeutic methods of "Vini-Yoga", "Yoga of Energy" as well as "Vinyasa Flow Yoga ". While the former two methods will sensibilize us for our own body consciousness, the dynamically flowing form of "Vinyasa Flow" will bring us a more powerful sporting aspect. In a harmonious and creative way I tie all the elements together in my classes. Thereby the interconnection of breath and movement is always most important to be conscious of.


Yoga courses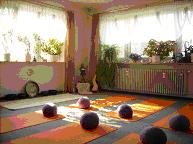 Monday

18.00-19.30 h



Monday


20.00-21.30

h




Tuesday



8.45-10.15 h




Tuesday



18.00-19.30 h


Tuesday




20.00-21.30

h





Thursday



9.00-10.30 h


Advanced

Thursday



10.45-12.15 h


Aged 50+


Thursday




18.30-20.00 h






Yoga courses in a group: 90 Min. 13 €

Yoga individual courses: 60 Min. 40 €

You may look forward to relaxing and energizing yoga lessons in small groups of five to six persons.


Costs may be refunded by the health insurance!


Yoga Workshops

Vinyasa Flow intensiv 28. may 2011 15.00 - 17.30h, 26,-€, advanced

Can you imagine something more amazing than being on a magical place in the sunny south, letting free your soul, finding peace, regaining strength and thereby to revitalize your body? Time for moving with the rhythm of your breath, immersing in the infinite space of meditation and relaxation. Time for a soothing, joyous holiday for your body, mind and soul.
Gozo/Malta

16. 7. - 23. 7. 2011

Corsica

13.8. - 20.8. 2011

Mallorca

3.9. - 10.9. 2011
Depending on local possibilities, I also offer Ayurvedic cooking classes or sound massages on individual requests.

More information please check under www.holidayoga.de

Kundalini meditation
Friday, 15.4.2011

Fantasie trip

Friday, 20.5.2011
Meditation opens the mind and broadens the heart.

All forms of meditation strive to reliberate our mind of our constant flow of thoughts. If the thoughts can be calmed and kept quiet, there will be silence. Meditation can also be described as an inner journey or a trip to yourself. It means detaching from everyday life and plunging into a state of silence. In silence we find peace, clarity, self-consciousness and true faith as well as stability, energy and joy. Only in silence we can connect with our true self.
The deeper you look inside the more you will discover. Within yourself there is the source of wisdom, of understanding and of awakening. You just need to touch it.      Thich Nhat Hanh
It is not always easy to step out from daily situations and enter the state of meditation. Therefore, I usually start by meditation evenings with some from yoga and dance exercises in order to relax body and mind. The meditation will be accompanied by special sounds. Each meditation evening has a different theme and will be arranged individually. If people want, we can finish off the meditation evening by exchanging thoughts and having tea.
Meditation evening: 19.30h - approx. 21.00h € 10
Home | About me | Ayurveda | Yoga | Sound | Lotus flower | Contact | Links

Imprint